CT Collegiate NAfME
Holds Benefit Concert
The Connecticut Collegiate Chapters of NAfME (National Assoc. for Music Education) held their First Annual Benefit Concert on Dec. 1, 2012, in Bristol, CT, for the benefit of Horns For KIds. The concert was organized by CT NAfME officers from Hartt, WCSU and CCSU. Students performing represented schools of music at Hartt, UCONN, CCSU and WCSU. Horns For Kids is very grateful to all the students who so graciously gave their time and talent so that deserving CT public school students can experience the thrill of making music. All funds raised will go to refurbishing donated instruments that will be awarded free to CT schools.

---
41 Instruments Awarded on Oct. 29, 2011

Horns For Kids awarded 41 instruments to schools on October 29, 2011. There were 71 applications. So, we were not able to give an instrument to every school. Another group of instruments will be available in the Spring, 2012. Check back frequently, or join the Horns For Kids E-Mail List to be notified in advance.
---
The Darien High School music honor society, Tri-M, held an instrument drive for Horns For Kids this past December, 2011. Organized by students, Jeffrey Sload and Steven Ciasullo, the Darien HS Tri-M chapter collected 18 instruments and over $1,300 dollars in cash donations. Horns For Kids is very grateful to these Darien High School music students. They have made it possible for less fortunate students in Connecticut to have the opportunity to experience the thrill of making music.
---
Proceeds from Jazz CD to Benefit H4K
Mike Casey, jazz saxophonist and graduate of the Greater Hartford Academy for the Arts, recorded a new jazz CD called "Mike Casey & Friends". Mike generously donated all the profits from the sale of the album to Horns For Kids. The album includes 11 cuts of jazz standards played by Mike and friends as either a Quartet, Sextet or Septet. Mike arranged some of the selections. He is proficient on alto sax, tenor sax and flute and has performed at venues in Connecticut as well as the Hard Rock Cafe in Boston. He is presently a freshman studying jazz performance at the Hartt School (University of Hartford). Learn more about Mike at his website by clicking here:
www.mikecaseyjazz.com
---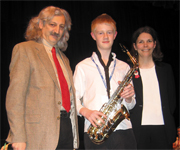 Edison MS, Meriden, presented with alto sax on 1/20/06.
Meriden School Awarded Alto Saxophone
Thomas Edison Middle School in Meriden was formally awarded a Jupiter Alto Saxophone at their Winter Concert on January 19th, 2006. Janet Rosen, then a music teacher at TEMS, applied for the instrument.
---

Mansfield Middle School

Holds Benefit for H4K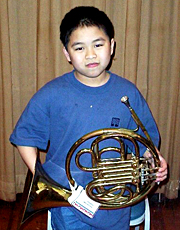 East Hartford student playing an H4K French horn. (photo by George Rowe, E. Hartford music teacher)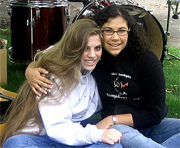 Avon Students
Collect 33 Instruments
Two Avon High students collected 33 instruments and $200 dollars in cash for Horns For Kids. The students, both 16, decided in April to collect instruments as their project for a civics class. When they finished in June, they had collected 5 trumpets, 4 clarinets, 3 flutes, 2 trombones, 2 violins, an alto saxophone, four guitars, bass guitar, bass amplifier, a full drum set and 9 recorders. Total value of the instruments is at least $5,000 dollars. They also stood outside Wal-Mart one day and collected $200 in cash. The girls worked almost every day on the project for two months. They received instruments from friends and local music stores where they had posted fliers. They plan on having another drive during the next school year -- and have already collected some instruments. This is a wonderful thing that these girls have done. There will be many less fortunate students across the state that will be able to play, thanks to their persistence and hard work. Horns For Kids is very grateful to them!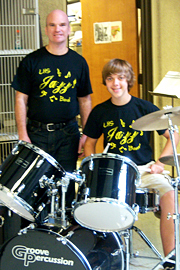 Tom Green, band director (left), and student at Ledyard High School.
Horns For Kids awarded five drum sets to Connecticut schools on Thursday, September 22, 2011. There were 16 applications for the five sets available. Sets were awarded to City Hill Middle School in Naugatuck, Ledyard High School, Plainfield Central School, Shelton Intermediate School, and Wethersfield High School.
---
49 Instruments Awarded to Schools on June 4
The most recent group of instruments were awarded to schools on Friday, June 4, 2010. To see the list of schools that received instruments,
CLICK HERE
or on the searchlights above. There were 39 applications for the 49 instruments offered in this group. We were not able to give an instrument to every school that applied this time. But we are busy preparing another group of instruments to be awarded this coming fall, 2010. Join our "E-Mail News List" below to receive advance notice about the next group of instruments. Best wishes to all for a relaxing summer.
---
Digital Piano Awarded to Harford School
After much consideration, The Williams "Sonata 88" digital console piano was awarded to
Cornelius A. Moylan Elementary School
(PK-8) in Hartford on March 15, 2010. There were 19 applications for the one piano. One thing is evident: There is a great need for pianos in good playing condition among schools in Connecticut. Horns for Kids will be searching for pianos, especially digital keyboards, to help satisfy this need. Thank you to all schools that applied. Please continue to check the website often for more instruments that are available to schools. If you are not on our E-Mail News List, you may join by sending us your e-mail address.
CLICK HERE.
---
Digital Piano Awarded:
Parish Hill High School
A Yamaha N-100 Digital Piano was awarded to
Parish Hill Middle/High School in Chaplin, CT
, on Thursday, September 30, 2010. The small school serves the remote towns of Chaplin, Hampton, and Scotland, CT (Region 11). The piano will be used all day, every day by choral teacher, Melissa Cannon, for four choirs and piano classes. It will replace a Casio keyboard with a broken pedal and non-weighted keys. Her ensemble numbers have doubled over the last four years — so much so that a wall was recently knocked down to enlarge her classroom. There were 19 applications for this one piano. We hope to have more quality digital keyboards donated in the future. There is a real need.
---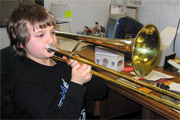 Fourth Grade student in North Haven school is using an H4K trombone.
North Haven School Awarded a Trombone
Ridge Road Elementary School in North Haven was awarded a trombone this past December. Music teacher, Melissa Hudson, applied for the instrument in November. As you can see above, it's already being put to good use.
---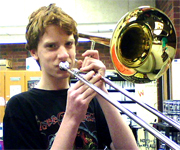 Student plays trombone awarded to Washington MS in Meriden, CT
Trombone Awarded to Washington MS in Meriden
Marta Kwiczor, instrumental music teacher at Washington Middle School in Meriden, CT, recently sent us the photo above. One of her students is playing the brand new King trombone that was awarded to her school on April 22nd. Best wishes to the students at Washington Middle School. Nice trombone embouchure! Their spring concert is on Tuesday, June 4, at 7pm at Maloney High School on Gravel Street — Meriden, CT.

---
Digital Piano Awarded to Tyl Middle School
Horns For Kids awarded a Casio AP-40 Digital Piano to Leonard J. Tyl Middle School in Oakdale, CT, on Feb. 27, 2009. The music teacher, Ms. Judy Abrams, has been at Tyl MS for 15 years, and teaches a very diverse group of students. Tyl Middle School is part of the Montville School District. Horns For Kids received 10 applications for the piano. Hopefully we will have more instruments like this to award in the future.
---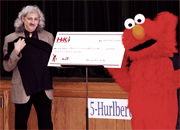 Elmo helps award check to O'Connell School in Bristol.
Sesame Street's Elmo Helps Award H4K Grant to Bristol School
On Thursday, September 7, Sesame Street's Elmo made a surprise visit to Clara T. O'Connell Elementary School in Bristol, CT. Elmo was there to assist Horns For Kids co-director, Fred Rossomando, award a $500 dollar grant to the school's music program. O'Connell School will use the funds to purchase a French Horn.
---




Instruments Awarded to Schools Oct. 25th
Horns For Kids awarded 66 instruments to Connecticut schools on Thursday, October 25, 2012.
CLICK HERE TO SEE THE LIST OF SCHOOLS
that were awarded instruments. There were 85 applications for the 66 instruments that were posted. Horns For Kids is planning to have another group of instruments available this coming May. If you'd like advance notice, join the E-Mail News List below.
44 instruments were awarded to Connecticut schools on Friday, May 6, 2011.
CLICK HERE
to see the list of schools that were awarded instruments. There were 44 applications. So almost all schools that applied received an instrument. Schools that were awarded an instrument should call Horns For Kids immediately to make arrangements to pick-up at our Hamden office. Teachers, please call
(203) 288-9771 and ask for Fred or Lee
. More instruments will be available to Connecticut schools this coming fall. Subscribe to our E-Mail News List below to receive advance notice.
---
South Windsor Student
Contributes to H4K

65 Instruments Awarded
To Schools on November 5th, 2010
Horns For Kids awarded 65 instruments to deserving CT schools on Friday, November 5th, 2010. There were 54 applications from schools in 36 different towns throughout the State. We were happy to be able to award at least one instrument to each school.
Congratulations to all those who applied. We plan to have another group of instruments available in early April, 2011. To get advance notice, submit your e-mail address to our "E-Mail News List".
---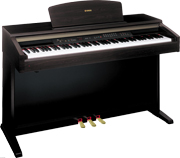 Yamaha Piano Awarded to Preston Plains MS

The Yamaha YDP-223 Digital Piano pictured above was awarded to
Preston Plains Middle School
in
Preston, CT
, on March 11. Veteran music teacher, Lisa Feltes, says the piano will be used extensively in the general music classroom (composition and keyboarding), for rehearsals and performances of the chorus and band, and with a new jazz band. There were 21 schools that applied for the Yamaha piano. All were deserving of the piano. Unfortunately, we only had one. Horns For Kids plans on having approximately 4 dozen more instruments ready to award to schools on April 11. Check back often, or subscribe to our E-Mail News List below to get advance notice.
---

Old Lyme Students Raise Funds For H4K
Lyme-Old Lyme High School students in Ms. Breault's Civics class recently raised $574 dollars for Horns For Kids. Click on the picture above for the complete story.
---

Brookfield School Sends Thank You Poster
---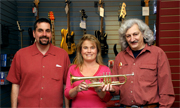 L-R: Frank Ross (Selmer/Conn Rep), Liz Reisman (Store Owner), Fred Rossomando (H4K Co-Director)
Creative Music Center Donates Trumpet

On March 15, 2008, Creative Music Center in Monroe, CT, donated a new Bach TR-800 trumpet to Horns For Kids. Liz Reisman, store owner, graciously selected Horns For Kids to be the beneficiary at the Grand Opening of the new music store in Monroe. You can tour the Creative Music Center website at:
http://thecreativemusiccenter.com/
. We are very thankful to Liz for her generosity. The trumpet was awarded to Bailey Middle School in West Haven on January 5, 2009.
---
Huckleberry Hill School students in Brookfield, CT, recently sent us a beautiful "Thank You Poster". The poster is 34" x 24". The poster is creatively signed by the music students. Margaret Fitzgerald, veteran music teacher at Huckleberry Hill School wrote the following inscription: "To our friends at Horns For Kids — You will NEVER know how many lives you have touched through your kindness and hard efforts. Thank you!! — Margaret Fitzgerald.

---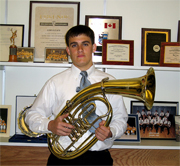 Notre Dame HS student holds baritone horn awarded by H4K on May 7, 2005.